| | |
| --- | --- |
| | Access America Complete, our Hosted IP PBX System |
---
Access America Complete
Access America Complete is a hosted IP PBX system using Cisco 7960 and 7940 IP phones and provides auto-attendant for the organization and voicemail and phone numbers for each person in the organization. Users have a web portal through which they can control their phone including retrieving messages, forwarding messages to e-mail, using find-me/follow-me features, forwarding their phone calls to cell phones, all with the click of a mouse. The end-user control and freedom provides the organization with enhancements in productivity and efficiency. Mobile workers are no longer tied to having two separate numbers for cell and office, but can have their office number forwarded to their cell and receive calls while out of the office and retrieve voicemail when out of the office using the web portal.. Internal workers have their own telephone number and voicemail and can forward voicemails to others, leave messages, conference and intercom with the Cisco IP phones. The web portal is unique in that all inbound and outbound calls are logged and shown as call records for review. Also, you can set up a directory of personal and corporate numbers for dialing. Also, the web portal provides the click-to-dial feature, so that you don't have to push buttons on the phone, just click the name or number of the person you want to call! So, if someone calls you and you want to call someone back, just click, no dialing required!
For more information, call us at Access America at 865-482-2140 or 800-860-2140 for a demo, more information and pricing, or fill out our online information request form.
---
Features
End-user control. Each phone has its own phone number, voicemail and web portal for phone and call control features.
Voice Mail. Each user has their own voicemail box with greeting and full control of messages with forwarding of messages to other users and ability to have voicemail messages sent to their e-mail as wave file (*.wav) attachments.
Web Portal. The web portal provides access to call logs of incoming and outgoing calls, personal and corporate directory, forwarding to e-mail, click-to-dial, find-me/follow-me, setting up speed dial numbers and control of the phone itself.
Softphone. In addition, there is a softphone application for mobile workers who want to have a softphone on a laptop for traveling or for working from home.
Console Assistant. The Console Assistant software provides the main receptionist or operator with an overall view of the system and allows call handling and routing from a central point, as an alternative to using the auto-attendant feature
Multiple call handling capability on each phone. Also, each phone set is capable of handling multiple calls, so there is no more of the idea of one phone line, one call. The Cisco 7960 can handle 6 simultaneous calls, so that you never miss a call.
Moves/Adds/Changes. Access America Complete simplifies moves, adds, and changes. All a worker has to do is pick up their phone and plug it in at their new desk. All the features follow them. No re-wiring in the telephone closet is needed. The only requirement at the new desk is a data connection, which they will have to have for their computer.
Incremental Growth. The system can grow one phone at a time, no need to purchase overcapacity or plan for future growth, only what you need right now
Future-Proofing: System Software Upgrades Included. All system software updates are included, no need to purchase new licenses or software updates to upgrade your system..
No long distance between stations. All stations are on the same phone system, so all calls between users of the system are free, no matter where the users are located (same city, different cities, different states, different countries).
Disaster Recovery. The system operates in our data center in Atlanta and continues to operate if you site goes down, so that calls are forwarded to voicemail. Or, if you access the web portal, you can forward calls to other phones. Or, you can carry your Cisco phones to another location and plug them into an internet connection and the phones will immediately begin working.
System and phone set features
All typical phone features (do not disturb, intercom, transfer, call voicemail, etc.)
Display telephones with 6 lines (Cisco 7960) or 2 lines (Cisco 7940)
Web portal with access to call logs, personal and corporate directory, voicemail and voicemail to e-mail and click-to-dial
Voicemail for each person
Unique telephone number for each person
Multiple call handling capability on each phone
Receptionist position can have overall view of the system with Console Assistant software
Works with virtually any good internet connection, in the US or around the world.
Simplified Moves/Adds/Changes
Softphone available and works just like the desk phone
Disaster Recovery is part of the system including voicemail access, web portal and ability to plug phones into an internet connection elsewhere
Pricing for the system is $50/month for the system and $39.95/month for each phone set which includes voicemail, an individual phone number and web portal access with call logs, personal and corporate directory, voicemail, and voicemail to e-mail forwarding capability, and click-to-dial. E911 is an additional $1.00/month charge. Long distance charges may apply for calls outside the service area and for international calls.
Requirements
IP Phones will require an ethernet data connection at each desk. Each phone will require a power supply adapter unless a Cisco power over ethernet (PoE) switch is used to provide power over the ethernet data connection. Cisco PoE switches can be purchased through Access America. If category 5e wiring is needed, Access America can also provide wiring and cabling services. A high quality internet connection is highly recommended for the phones to communicate with Access America's central server in Atlanta. Internet access may also be purchased through Access America at the DSL or T1 or T3 (DS3) speeds.
Call us at Access America at 865-482-2140 or 800-860-2140 for a demo, more information and pricing, or fill out our online information request form.
Access America Hosted PBX Service with Cisco IP telephones
(scales from a single phone to an unlimited number of phones, can grow one set at a time)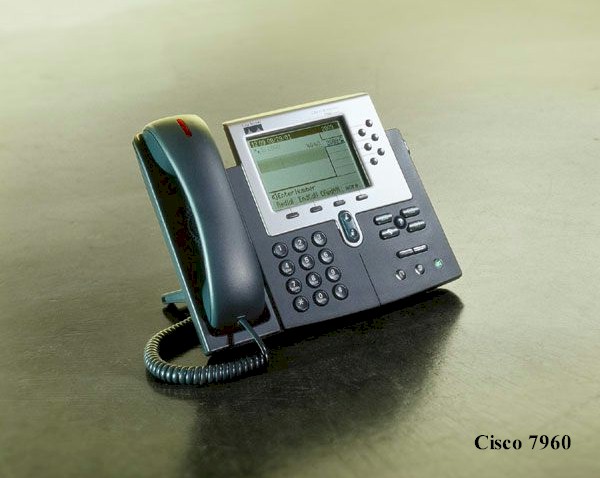 Cisco 7960 for use with Access America Complete Hosted PBX Service
Watch instructional videos:
Console Assistant
Visual Voicemail
Find-Me/Follow-Me
---

Access America
673 Emory Valley Road
Oak Ridge, Tennessee 37830
865-482-2140




Copyright 1996-2018
Last Updated: February 19, 2018